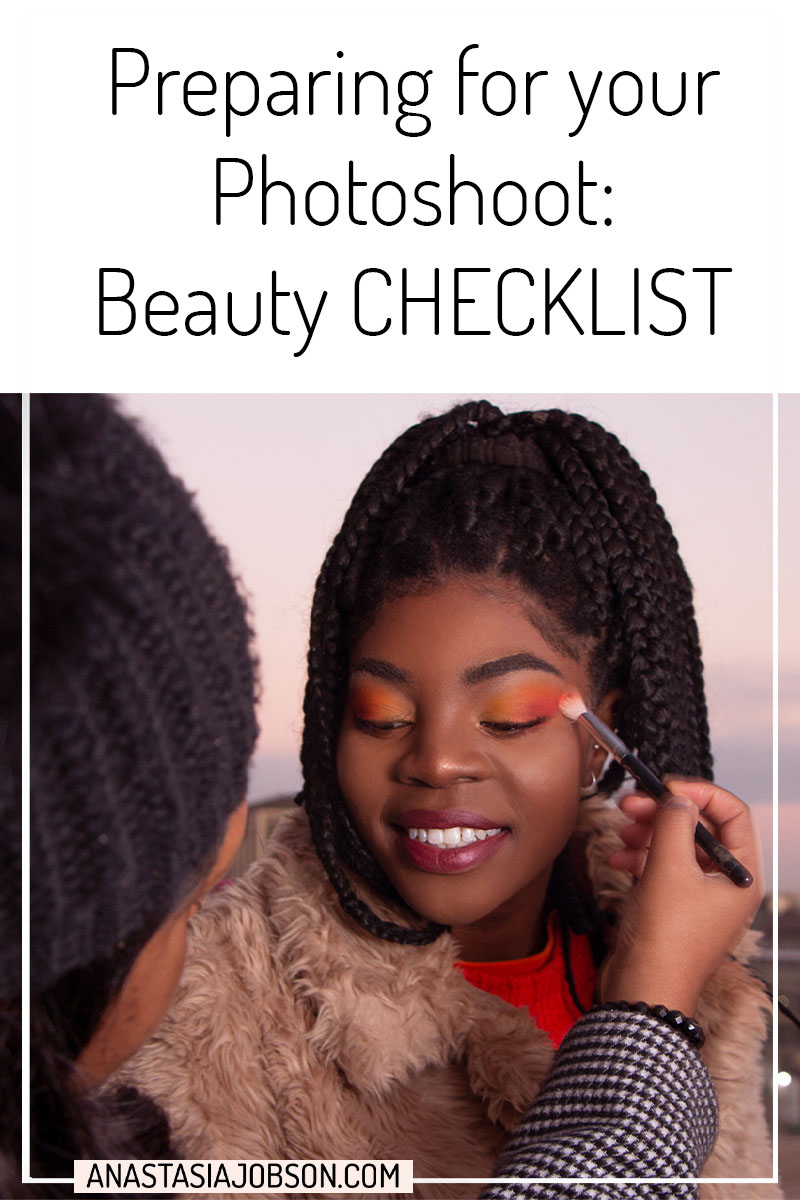 Photoshoot Prep: 7-day Beauty CHECKLIST
How can you get ready for a photoshoot? Be prepared to look your best, they say… Of course! But what does a photoshoot prep really involve? Let's discuss how a perfect pampering timeline would look like!
A week before your photo session is ideal time to start. Why? It's enough to detox and tone your body, and visibly improve your skin with proper sleep and healthy nutrition. So let's break it down…
7-day photoshoot prep checklist:
FACE:
Exfoliate your skin a few times a week. Get rid of the dead cells straight away! You don't want annoying snake skin on your nose to ruin portfolio images.
Moisturise, moisturise, and moisturise! I can't emphasise it enough. For your skin to look nourished and fresh, and prevent early wrinkles, don't forget to moisturise, especially after you exfoliate! Not only that, moisturise in the morning after your beauty routine as well as in the evening before the bed. Do I also need to say you drink plenty of water every day? It's a no brainer!
And don't you touch those pimples! Cuts are so much harder to cover with make up than little bumps!
Book an appointment with a brow stylist. I suggest you don't experiment with shapes, as you never know… Just tide them up and add some colour. LITTLE things often make a BIG difference.
HAIR:
Why not to go to the hairdresser's! Get a trim and touch up the roots. Your portfolio will serve you way longer than your roots!
A nourishing hair mask a few time a week won't hurt anyone, even if it's only a home made DIY recipe from Pinterest. Give your hair a moisturising boost for it to shine on the photos!
BODY and SKIN:
Eat good foods. Cleansing or detox tea will make your skin clearer and will add some shine. Full body detox takes up to several days, so if you decide to do so, start straight away! (Very often toxins start coming out on your face on the second-third days of a detoxifying diet. Plan it well!)
Committing to go to the gym every single day of the week will be a great idea! (it might sound too much… but it's only a week, not a life-long commitment). Get your arms toned fast by using heavier weights in addition to protein rich healthy diet.
THE DAY BEFORE:
Love yourself, spend a day pampering and doing anything and everything to be and look your best. As a result: you feel better, and your smile shines brighter!
I can't emphasise it enough… A quality sleep before your photoshoot is a MUST. Good night sleep lets you avoid black circles around your eyes (one less layer of make-up, here we go! ) You will be more focused and alert. Plus, you won't need a gallon of coffee to make you ready for the day. (Saves you drinking all this unnecessary liquid and getting your face swollen.)
ON THE DAY:
Stay hydrated. Let your brain get enough water to fight sleepiness and fatigue.
Eat light. Feeling bloated won't do any good. We all know that feeling great = looking great!
Don't forget to get some inspiration on poses and attitudes to aim for. It's always better to be prepared than feeling awkward and shy during the shoot. You can get everything you need and even more on Pinterest! Here're a few boards for your ultimate posing inspiration:
Oh, and the LAST point, but no way the least in your photoshoot prep! Do everything to feel uplifted! Listen to empowering upbeat songs, sing in the shower, watch an episode of your favourite TV series… The list is endless! The better you feel, the better the photos will turn out!
YOU'RE ALL SET! Make the most of your spotlight!