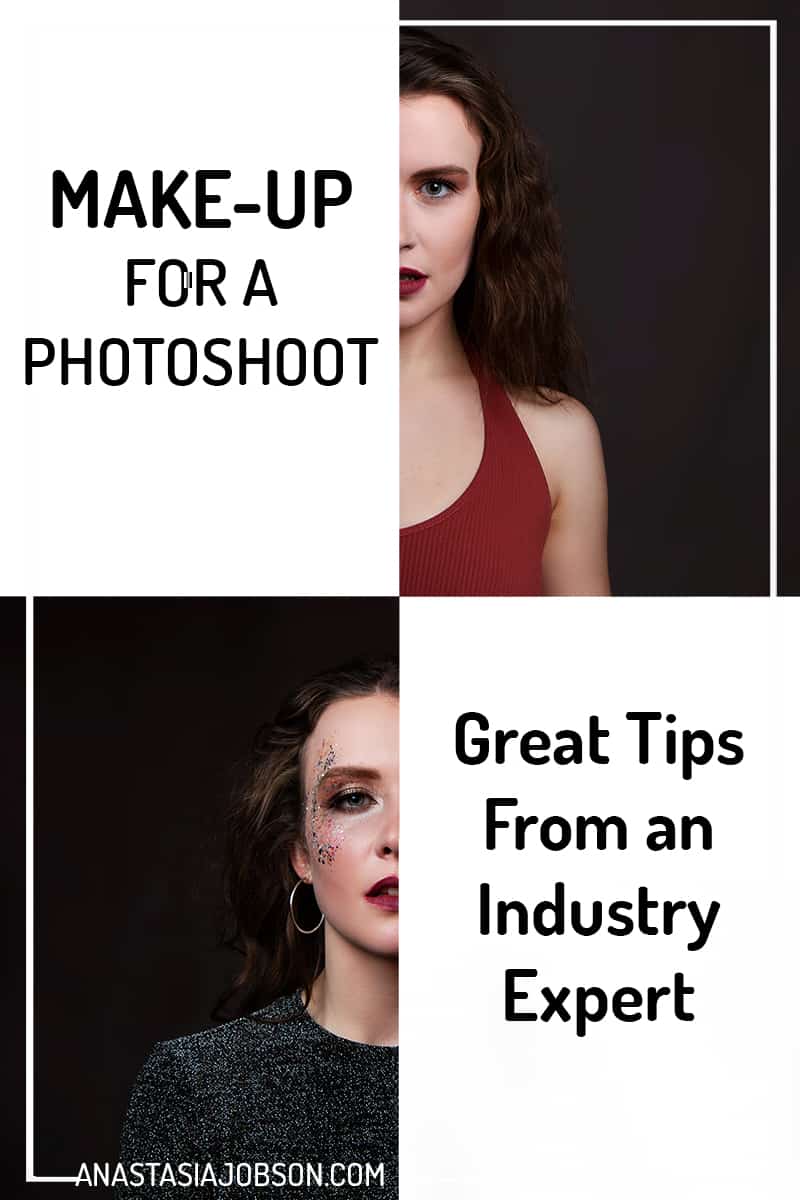 MAKE-UP FOR A PHOTOSHOOT: Great Tips From an Industry Expert
When investing in a professional photoshoot, you want to make sure you look your very best in every single photo.
The right MAKE-UP can be crucial for getting images you will love. One way is to hire a professional who will be there with you fixing your make-up at any point. Or, do your research, try a look at home and see how well it works BEFORE the photo session.
Today I've teamed up with NOVA STANLEY (Blank Canvas Beauty), an industry professional to give you some hands-on advice on how to look great in photos as a result of appropriate make-up.
Let's break it down to different photo sessions you might be going for…
HEADSHOTS Session:
In order to get headshots that will get you booked, make sure you look like you. You want casting directors to be able to recognise you after auditions, so keep it natural.
For a neat natural look put on a bit of mascara to emphasise your eyes, define your cheekbones slightly and go for a natural muted coloured lipstick.
Remember, your face will be in focus. So try to avoid distracting jewellery or excessive makeup. The casting team needs to be able to envision you when looking at your photo; it's the only physical reminder of you they have long after your audition.
Keep it natural! Casting directors want to see the REAL YOU in order to imagine you in a range of roles. The more authentic the image is, the more your chances are of getting the job.
BODYSHOTS & DANCE PORTRAIT Session:
During a photoshoot, especially a dance session, you want to create an illusion.
Depending on a dance style and a look you have in mind, think of it as a BIG PICTURE. You want everything to go in line: your make-up, hair, outfit, even the background colours and the overall feel. Nova suggests it's a great idea to make a MOODBOARD, to put all your inspiration sources together and look how it works together.
For a BALLET dance photoshoot for example, you wont have a bold make up. You want to go for a soft look to compliment your dress or outfit, in order to create a beautiful soft production. Also, think of blank or muted colour backgrounds .
"If your make up is sharp and edgy, it wouldn't just fit," says Nova, "you've got to keep it in line."
For a CONTEMPORARY dance session, try going for a more natural look. Slight smokey eyes would suit well. Just make sure it suits the illusion you're trying to make.
STREET dance or CONTEMPORARY JAZZ photo session is where you can bring high definition cheeks, red lips, and more defined eyes. Think of it more like a stage make-up: you want the audience to be able to see your expressions from afar, so go for a more vivid, bold look.
Also, your hair makes a difference. If your hair is down, you don't want too much make-up because the hair might cover it. If you have an up-do, you want a more distinct look, as your face will be more shown.
For example, if you have massive locks, don't put on too much make up as it will be too busy.
LIFESTYLE Photoshoot:
It purely depends on your lifestyle, if you're a high profile person you would want an actual make up, to be able to see you have a make up on,
If you're an athlete, go for a very natural make up, contouring you're cheekbones. You can do the same to define you're muscles to look amazing in photos. Chest, define your collar bone, define abs a bit more, all these details will be picked up on camera very well. Make up will just define what's already there, no photoshop! It's Real!
Celebrities have so much photoshopping, any lumps, bumps, but now you want to be you, real, you want to emphasise you as a person to appreciate your beauty, the body you've got.
GENERAL advice on what make up to do TO LOOK GREAT IN PICTURES:
If its a family photoshoot: quite natural, so you look you, no smokey eyes, something fitting with the surroundings. To blend with the surroundings. Make up is a science: a bit of mascara, defined features, neutral tones.
To look great in pictures, slightly define, emphasise you're features. Let's say you've got green eyes, clear green eyes, you want to make them pop in a picture, add that little bit more of make up to enhance your eyes. So on the photos you're drawn to the eyes.
If you've got perfectly shaped lips, cover any blemishes, and focus on the lips. So rather it all be everything, focus on one area. It could be high definition eyebrows.
You could focus on something you're wearing and compliment it with same tone range make up to match. Foundation, mascara, muted colour on your lips. That's more a day look. Taking away your natural redness completely changes the look, but you still look natural.
Get at NOVA STANLEY for your make-up for your next photo session!
STANDARD Studio Portfolio

£

120

Mini facial treatment (peel, cleansing, tone, moisturise)
Make-up application (to personal preference)
1 hour photoshoot
5 hi-resolution edited/retouched photos
EXTRA: Hair Styling +£20
DELUXE Studio Portfolio

£

170

Mini facial treatment (peel, cleansing, tone, moisturise)
Make-up application (to personal preference)
Hair Styling
1.5 hour photoshoot
10 hi-resolution edited/retouched photos