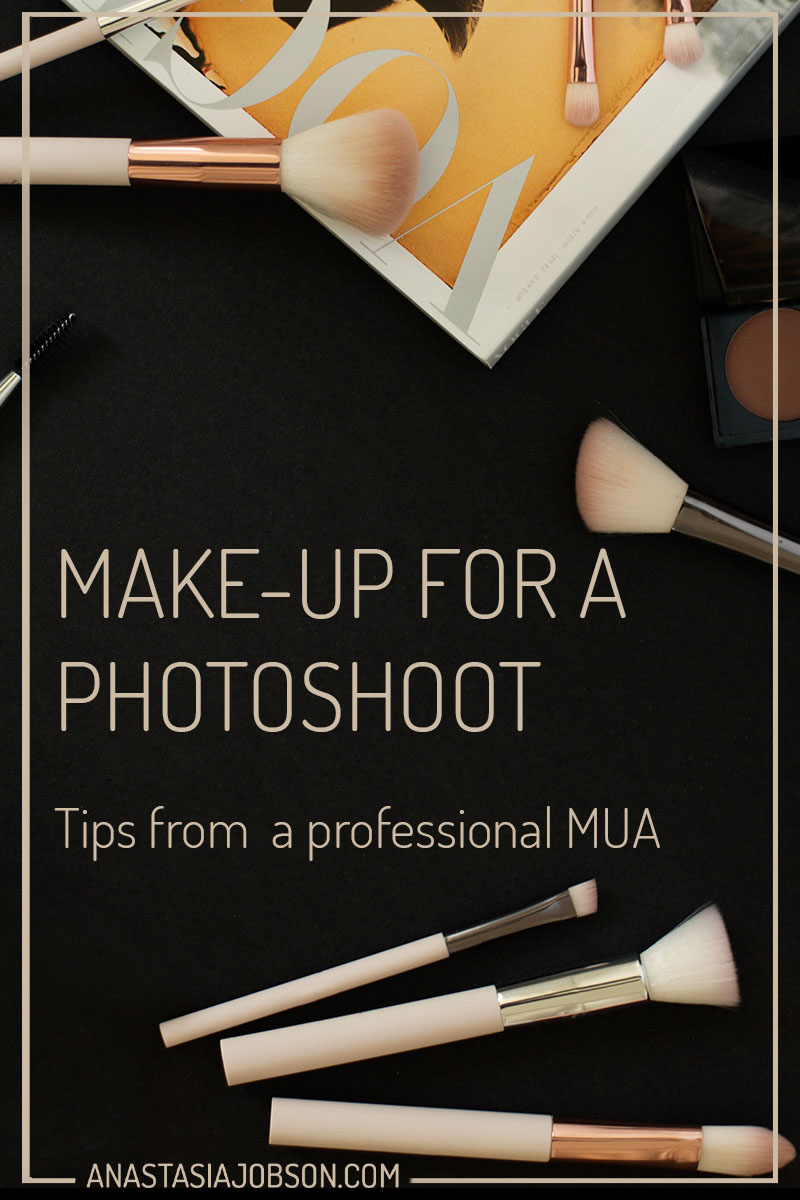 Photoshoot Prep: Tips from a pro Make-up Artist
Hello friend! For this week's blog I've teamed up with a professional make-up artist Precious Richards to share with you some pro tips from both a photographer's and MUA's perspective on photoshoot make-up.
Let's go!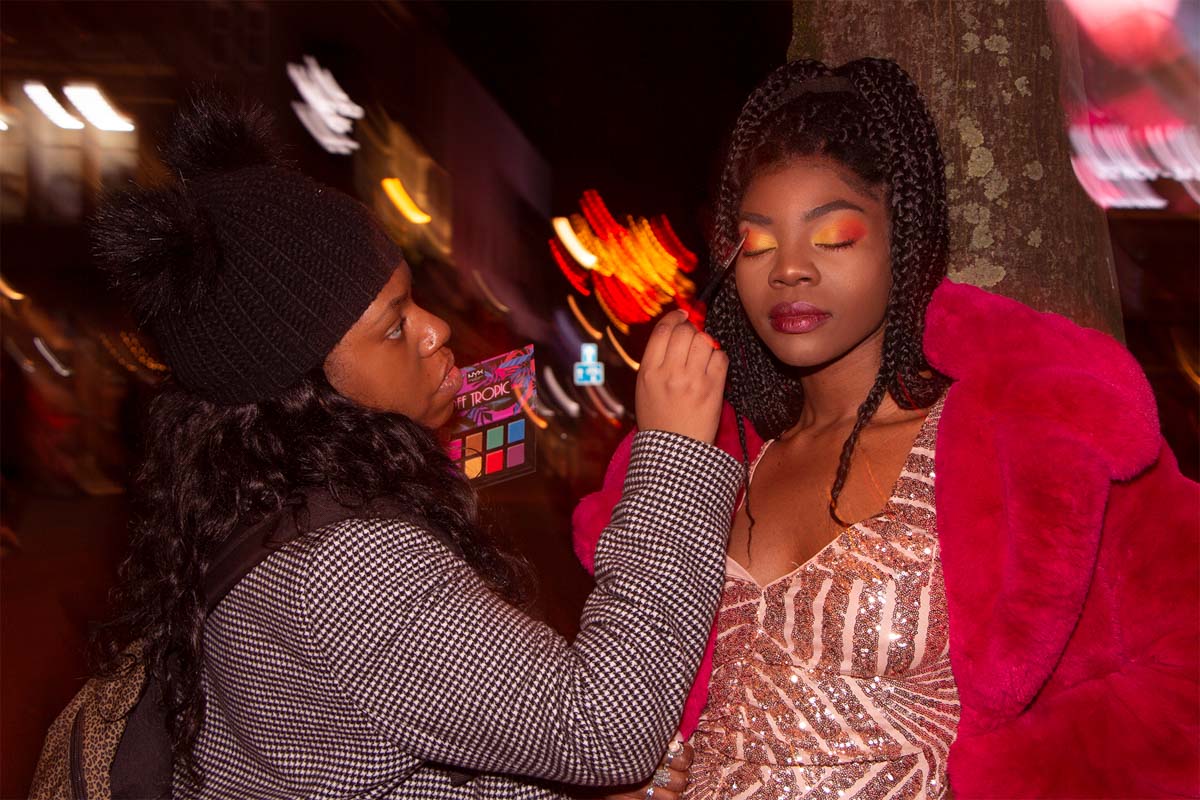 Precious Richards is a Birmingham U.K. based make-up artist who's been in the industry for over 3 years. She specialises in beauty which includes party and fashion editorial make-up. Her artistry is absolutely incredible and is greatly influenced by pop stars of 80s to 00s.
Photoshoot tips from a Professional Make-up Artist
Natural-looking skin
Now more and more photography is going towards a more natural-looking skin. Gone are those days of heavy photoshop and over-retouched skin with no texture. Similarly, make-up trends are shifting this way too.
Precious loves to see fresh skin with minimal products. "People now understand that you don't need to cover up. It's okay to have a few spots, scars here and there. If you have freckles or any skin imperfections you have to embrace it!" – Precious says. Some big cosmetic brands including the Body Shop, NARS, Elf and more are already supporting this movement.
Although we are used to seeing flawless and "caked up" beauty looks that are flooding Instagram, Precious suggests to stay away from there and understand that "even if you have a couple of acne scars, a few lumps and bumps it's fine. You will still have this flawless look," she says.
Prepping the skin
For your skin to look fresh in photos you need to prepare it for the spotlight with a good skin care routine. Precious recommends using Body Shop for skin care: "It's not only affordable but they also have skin care range for all skin types (oily, dry and combination skin)".
Facial scrub or a mask the night before will be great to give your skin a refreshing boost. You can also use a creamy facial wash to calm your skin. In the morning, use a moisturiser. Precious advices to use a water-based moisturiser if you have oily skin and oil-based if your skin is dry. "Oil-base products don't always work with oily skin, you should use something that won't drain the oiliness, but will bring back the moisture" – says Precious.
If you don't know anything about skin care, The Body Shop website has plenty of make-up tips on everything from figuring out your skin type to getting a glowing skin for your photoshoot.
You can learn about more in-depth photoshoot beauty prep in my previous blog HERE.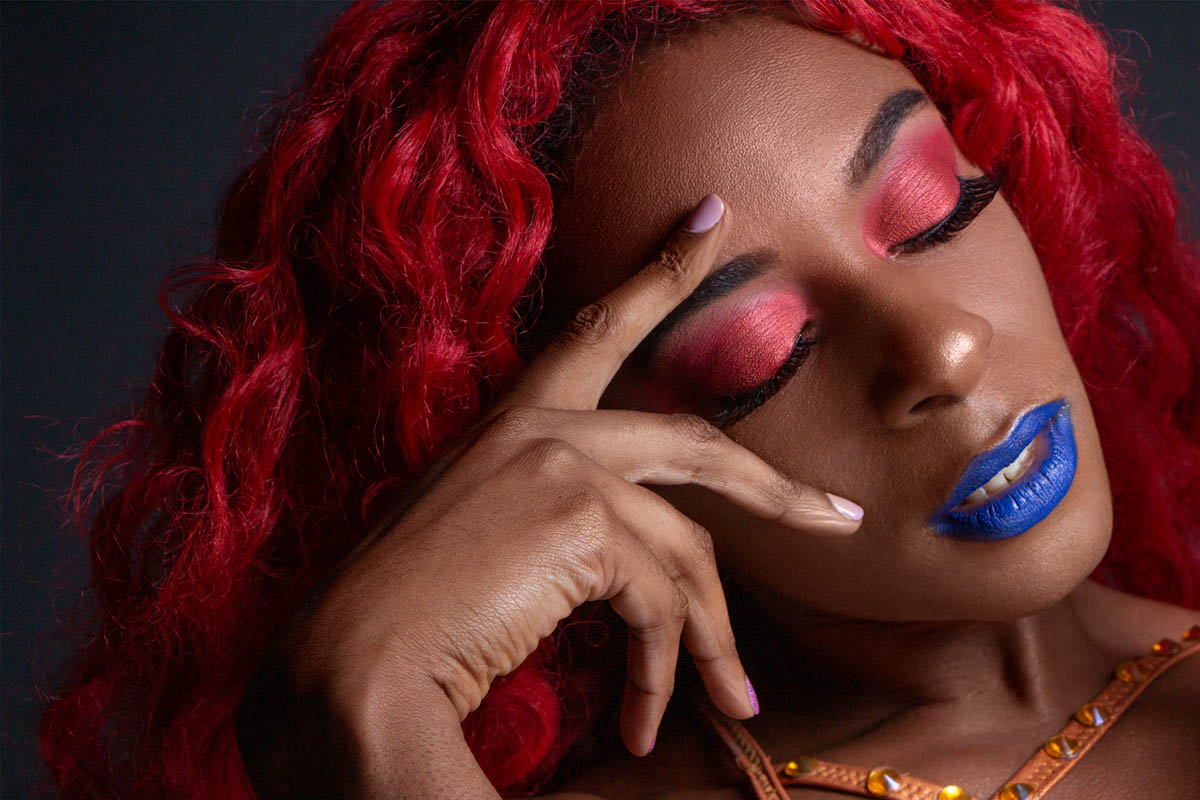 DIY Makeup for a photoshoot
If you're on a budget, or your city/region is still on coronavirus lockdown – you can always DIY make-up!
Moisturiser
Start by moisturising your skin with your favourite cream. Precious' go-to is Hydra Pro Cream by KIKO. If you have oily skin (like me!) go for a water-base moisturiser. "You don't want to clog your skin with lot's of products – sometimes foundation won't sit very well and might separate." So be mindful of how much of products you're putting on.
Primer
Use a primer to create a poreless skin effect and keep the moisture in your skin; Precious recommends Putty Primer by Elf Cosmetics.
Foundation
For photoshoots, Precious advises to go for Elf, NARS, NYX and MAC face and body foundation as "ideal for photoshoots", while Rimmel is not as great for a studio photography (flash photography). Here's why, depending on the ingredients used in products they may or may not cause flashbacks (white cast on the skin in photos). Cosmetics with SPF work as actual sunscreens reflecting the light from the skin. Your make-up might look flawless in the mirror, but in images taken with flash you might get a whitish glow. If you're using a foundation with SPF, Precious recommends to use a powder 1-2 shades darker to reduce flashbacks. You can read more about flashbacks here.
As a photographer I have seen it many times: foundation melting under the heat of a flash, constant lights at a studio photoshoot, or during a hot sunny day outside. So in order to stop the make-up from melting make sure to use good skin care products, primer and a powder. SPF foundation stays on well in humid conditions and blocks UV rays.
"I tend to use a medium coverage foundation for hot weather, or water-based foundations such as NARS, The Ordinary and MAC Face and body," Precious says. She also recommends to use sweat proof foundation such as a paint stick from Kryolan which is used a lot in theatre, TV and drag. As performers move a lot, make-up doesn't melt as they sweat. Also, if you set your make-up with a powder it will give it a bigger barrier from melting.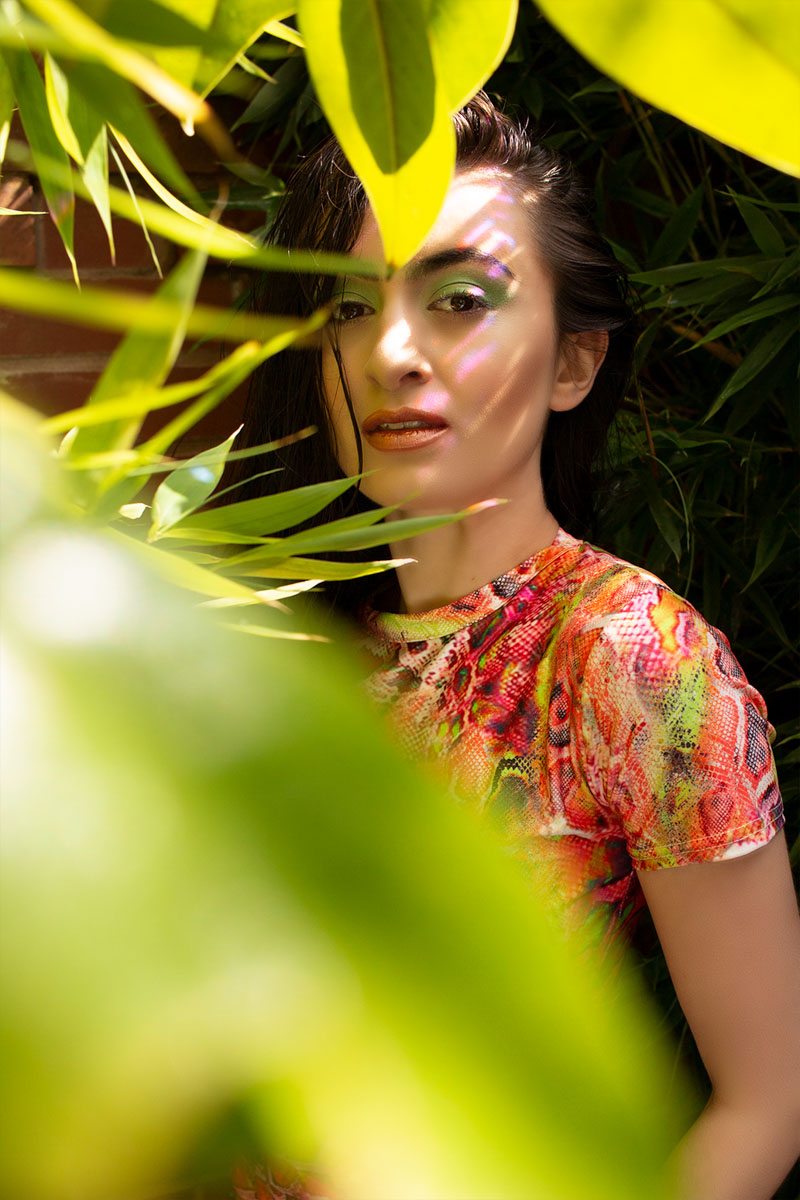 PRO TIP: When the light is harsh, any sweaty/shiny spots on the face will reflect the light which often leads to blown out (overexposed) spots, which is similar to make-up flashbacks. It's neither flattering nor easy to fix in Photoshop. If you're doing makeup yourself, I would highly recommend to ask your photographer what lights are they using or check the weather (for an outdoor photoshoot) and prep your skin accordingly.
BB Cream
If you prefer something lighter on your skin than a foundation – go for a BB (Blemish Balm) cream! It's a light moisturiser with a bit of colour.
Powder
"Powder only where necessary, don't powder all over," – says Precious. "If you have oily skin, powder where your skin is shiny. Don't powder everywhere it would look cakey and not natural."
Lashes
"Fake lashes or not, it's up to you." You can also get a good mascara. Some of Precious' go-to's are Rimmel, NYX, Elf. "You can use an eyeliner, but don't use it if you cant do it well. Put eyelashes instead – they are just as good!"
Eyeshadows
Eyeshadows are so versatile! And handy. Not only for adding a bit of a kick to your eyes, but you can also use it as a highlighter and brow powder. Simply find a suitable shade and blend away! If you feel like you could do with some help, YouTube is a great place to look at, or Instagram which is getting bigger on makeup tutorials. Many MUAs are posting fast-forward videos of their workflow – it's very quick and easy to grasp.
Setting Spray
With a setting spray your makeup will stay perfect for much longer. You can choose dewy or matte finishes to complete your look. One of Precious' favourites is Mattyfying setting mist by Morphe. It's very soft and "doesn't feel wet like water was splashed on your face."
Make-up Brushes
There are so many brushes out there: different sizes, textures and brands. When choosing your make-up brushes don't neglect their textures. Softer (fluffier) brushes blend very well and feel nicer on the skin. Hard brushes are opposite – harder to blend and you will end up using more product than you actually need.
"Keep practicing with your own make up. It's a journey."
If you want to experiment, go to a cosmetic store, get cheaper eyeshadow pallets and get creative! The difference between expensive and cheap eyeshadow pallets is texture. The more expensive eyeshadows are softer and more delicate (no need to use more product then you need). "They all do the same job regardless of a brand you're using."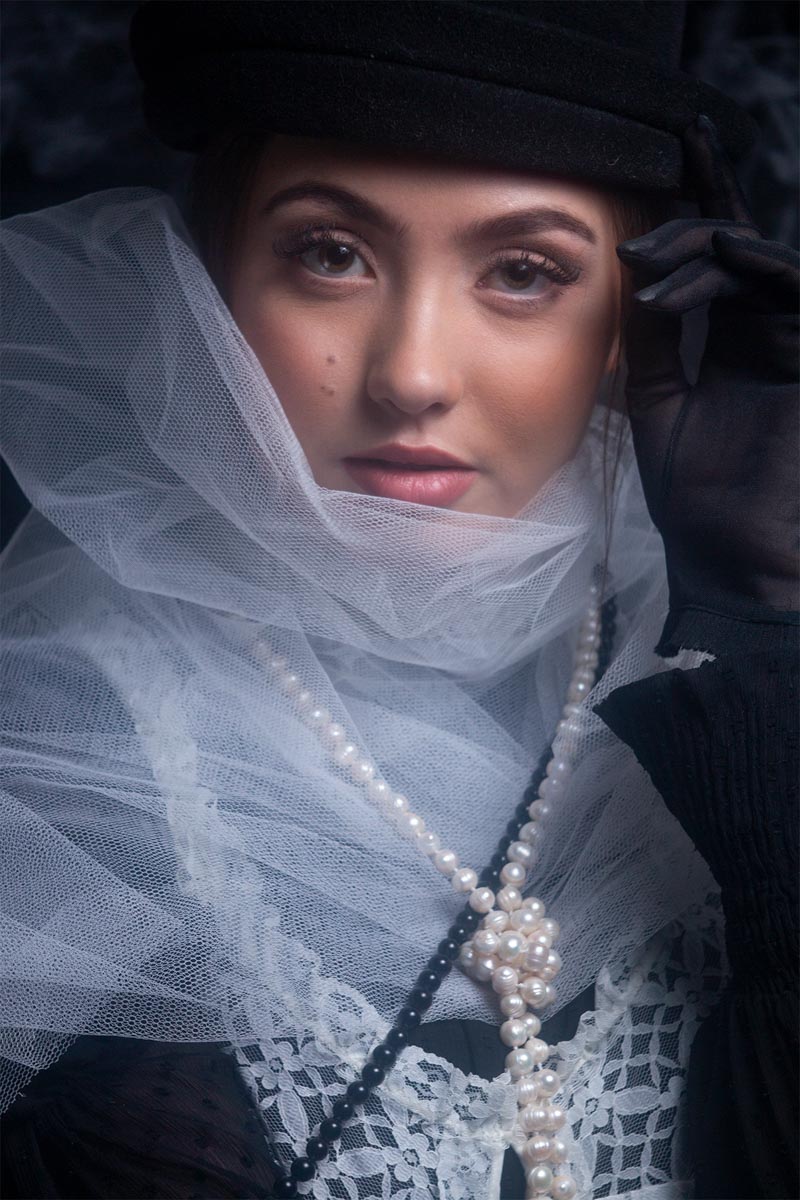 WHY HAVING A PRO MUA FOR A PHOTOSHOOT IS SO IMPORTANT
"With an MUA you don't have to worry about doing your own make-up." You can sit back, relax, and let the expert do their job. No need to worry about time and how well does make-up look. Cause it's gonna look amazing!
"It's always good to listen what MUAs are doing – learn tips." Learn what shades and colours suits your the best, how to apply eyelashes, and even more photoshoot make-up tips!
Precious recommends waiting a little for the things to get better and safer and have a MUA on board for your photoshoot.
"If it's just a photographer and a model it kind of loses the magical side of it."
Make sure to check out Precious' Instagram & Facebook!
This is it for today. You can learn more about make-up for specific types of photoshoots in my blog post HERE. This week's blog post is based on my conversation with Precious Richards on Instagram Live, which is also available to watch HERE. Do you have any photoshoot make-up tips we didn't mention? Comment down below I would love to hear from you! Stay safe and I will be back with more Photoshoot Prep tips next week!