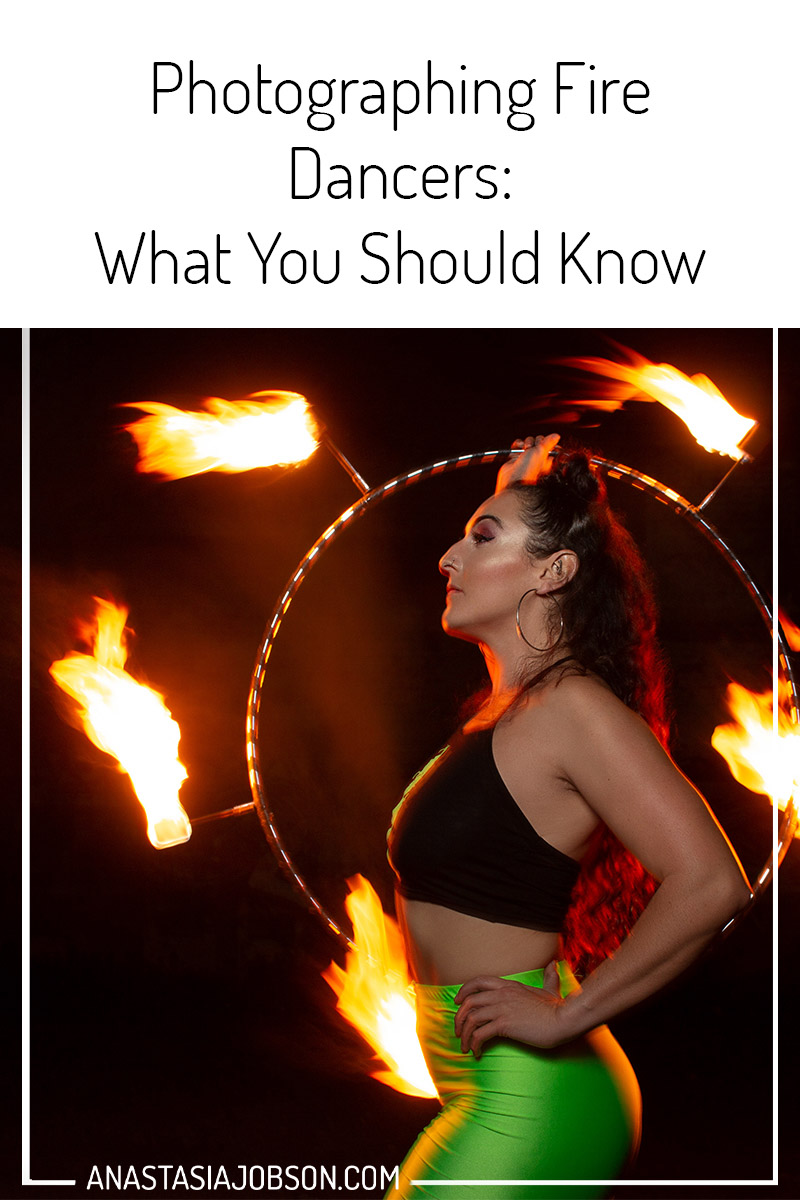 Photographing Fire Dancers: What You Should Know
Recently I was invited to film and photograph a Birmingham based entertainment and dance company 'Dc² Entertainment & Dance Company for their new fire show "Femme De Feu". If I'm really honest, I've never seen a proper fire show before, so I was expecting simple fire tricks such as breathing and eating fire but there is so much more to fire dancing (including all the tricks and props waiting to be photographed!) Are you wondering how you can capture creative portraits with fire? Keep reading! Today I'm going to share my go-to tips for photographing fire dancers and performers.
Let's go!

3 Tips for photographing fire dancers:
1. Observe
Fire is a tricky beast, you never know what it's going to do next…
I can't recommend it enough, instead of snapping like crazy from the moment you turn up to a shoot, take your time and observe what fire is doing. Fire is volatile, it will react differently depending on external factors; it's power and light intensity will differ from one movement to another.
Observing the fire will help you figure out how to position yourself in order to capture the fire movement and which lens to use for the best results. Would a fire performance trick look better compressed with a longer focal length, or will it be more beneficial to showcase more of the scene with a wider angle lens? Also it's important to consider how close to fire dancers you can get without getting burnt (or spat at haha). Remember, photographing fire is not only challenging but can get dangerous pretty quickly.
2. Use a Flash
For more effective portraits of fire performers I would recommend a darker setting. This way dancers will be the centre of attention without competing with the background. Technically the fire is an existing light source, so you might be thinking why you should introduce another light source (a flash) to the setting.
I think about a flash as a clean, good quality light in a dim ambient setting. For me it's important to make sure the dancers' faces are well-lit and sharp. A flash or as strobe lets you light your subject separately from the flames and be in control of the final image more.
If you have photographed dancers before, you know that you need to keep your shutter relatively fast (1/200s or faster) in order to freeze dance movement. It gets tricky if you shoot in the dark – unless you're shooting with your aperture wide open (F/1.4 or F/1.2) you'll need to bump up your ISO which will lead to grain and lower quality of the images. I love shooting with wide aperture, though it's a lot harder to make sure the focus is where you want it to be when shooting in the dark. That's why, flash or a strobe is my go-to way of photographing fire dancers.
If you haven't already, check out Camera Settings for Dance Photography where I explain settings for capturing movement more in-depth.
The beauty of using a strobe or a flash gun when photographing fire dancers is you don't need a an expensive fast camera lenses. (Feel free to check out Best Lenses for Dance Photography with tips on choosing a perfect lens for dance portraits.) If you want your whole image to be super crips and sharp, go ahead and close your aperture as far as F/8 or F/16 while keeping your ISO as low as possible.
Are you after super sharp capture of dance movement with fire? Make sure your flash/strobe is powerful enough to light your fire dancers from a distance; if you're using a speed light which is not as powerful as a strobe, move it closer to dancers for the light to reach them.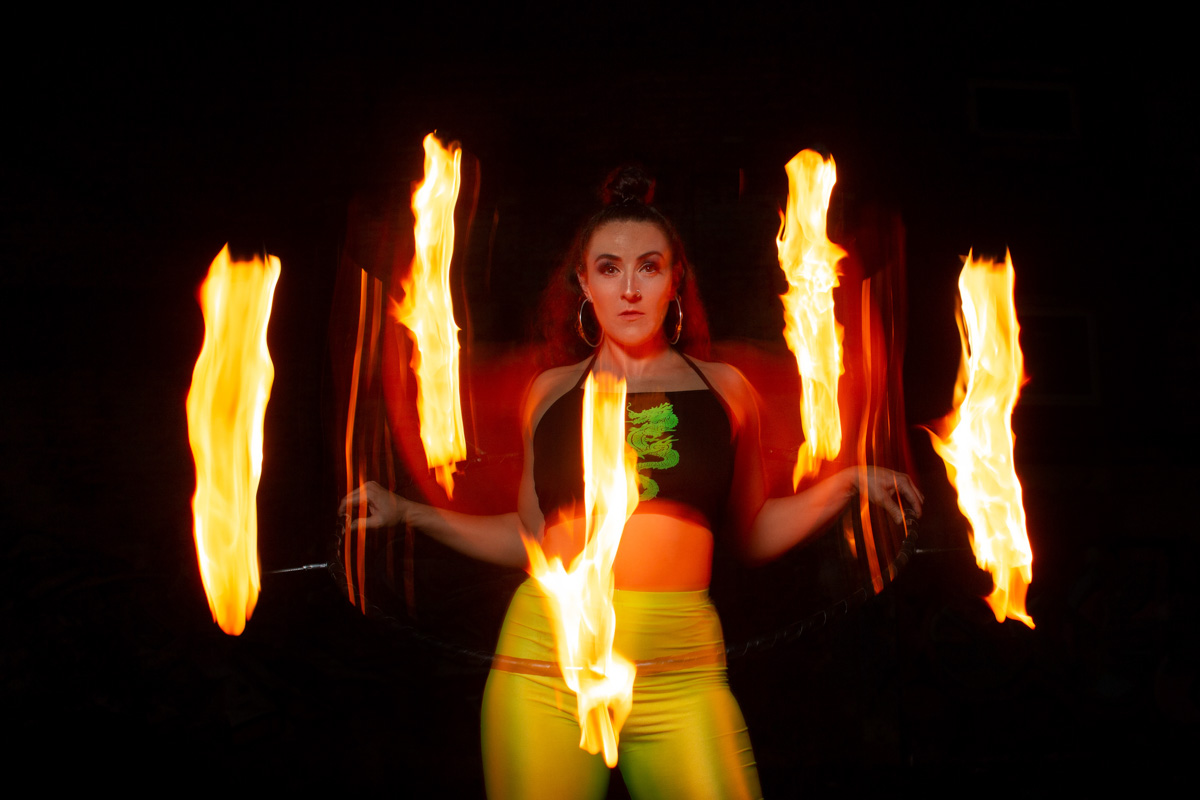 Slow-sync Flash
Have you tried slow-sync flash photography? It's an awesome technique that let's you keep exposing your images for longer (slow shutter speed) and still get crisp results. It's works wonders when it comes to sports and dance photography. You can get your subject perfectly sharp as well as capture their motion as a trail of light or blur in the photo.
When photographing fire dancers you can capture them perfectly still in the middle of their movement with an artistic pattern of fire surrounding them. Dial your exposure down to 1/15s or lower depending on how big of a light trail you are aiming to catch. I would recommend using a tripod to reduce any camera shake – for a longer exposure such as 1-2s and a bigger trail of fire, especially if you're going for a particular shape. Have your flash/strobe angled towards a dancer's face so you light a dancer well in order to freeze their movement.
If you're wondering how long should you keep your shutter open. You need to guess really. This is where observation comes in handy. I would recommend focusing at one fire trick at a time: observe, then try capturing the move with different shutter speed, see what works, and then work on perfecting your shot.
It's all about trial and error.
3. Get creative in the post-production
Talking about trial and error… We are magicians in a way (we capture magic sometimes), though it's hard to get the whole movement in one photo. Let's say you took several photos of the same fire trick – why don't you combine those multiple shots in one stunning image.
There's nothing impossible when it comes to Photoshop. Think outside the box! Is it a boring photo? Add some drama by mixing images together and adding new elements!
You can an example below. The first image is RAW, second one is a composite of 3 separate images. I like the first shot, I just felt like it wasn't effective enough for my taste. So after a little work in Photoshop this morning, this is what came as a result.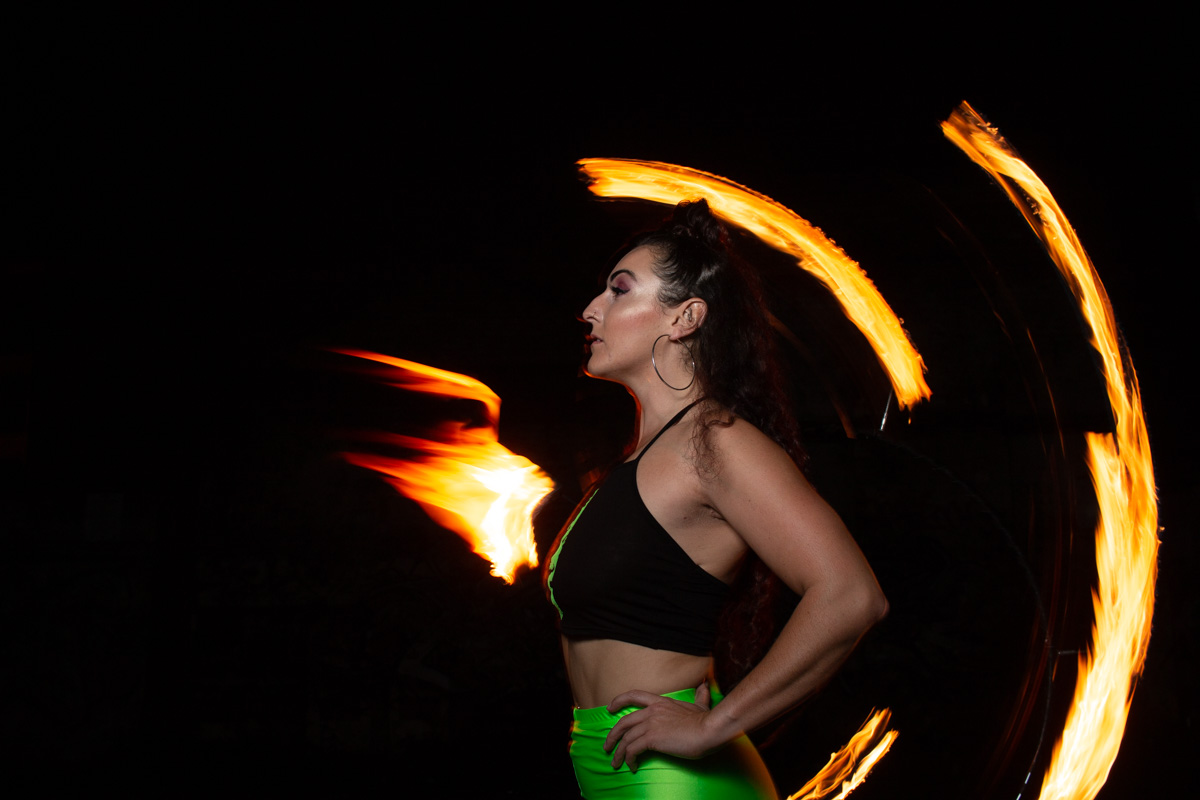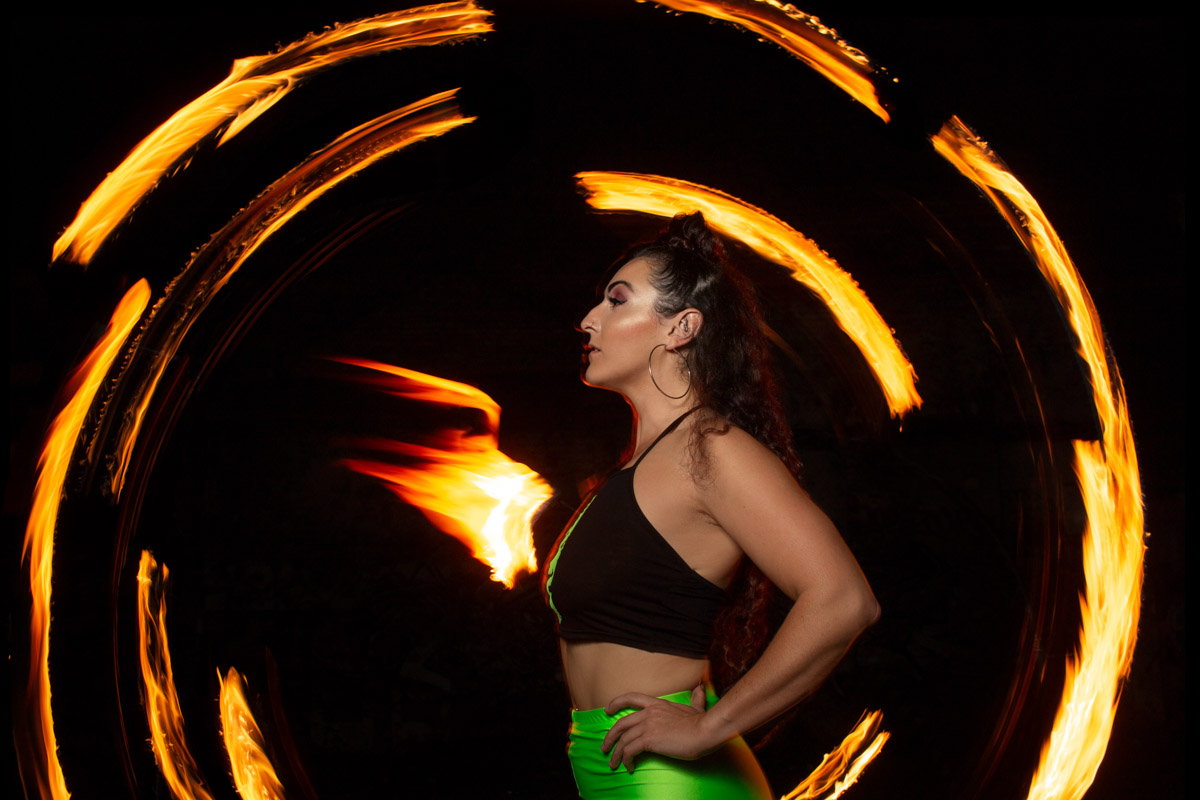 Thanks for checking out my blog! Please let me know if you have any questions about photographing fire dancers in the comment section below and I'll be happy to answer them.
I love creative photography ideas! If you know of any other cool techniques, please let me know! Let's learn and grow together!